Posts for: February, 2015
By Preferred Dental
February 27, 2015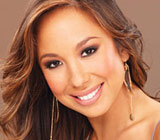 Growing up with a dentist stepdad, Cheryl Burke of Dancing with the Stars heard a lot over the years about the importance of good oral hygiene — in particular, the benefits of using dental floss.
"My dad would say, 'make sure you floss,' but I never really listened to him. I was very, very stubborn," Cheryl told Dear Doctor magazine recently in an exclusive interview. Cheryl admits this stubbornness took its toll, in the form of tooth decay. "I definitely had my share of cavities," Cheryl recalled.
Cavities can form when food particles, particularly sugar and carbohydrates, are not effectively cleaned from the spaces between teeth. These particles are then broken down by bacteria naturally present in the mouth, resulting in the production of acids that attack the tooth enamel.
When she reached her twenties, Cheryl decided she really needed to step up her oral hygiene and cultivate an asset so important to a professional dancer: a beautiful smile. And once she did, cavities became a distant memory.
"I think when you do floss frequently, it helps to reduce the chances of getting cavities," Cheryl said. "It took me a while to figure it out." Now Cheryl flosses after every meal. "I carry floss with me wherever I go. I have no shame busting out my floss in the middle of a restaurant!" She declared.
Dental decay is actually a worldwide epidemic, especially among kids. Untreated, it can lead to pain, tooth loss, and, because it is an infectious disease, it may even have more serious systemic (whole body) health consequences. The good thing is that it is entirely preventable through good oral hygiene at home and regular professional cleanings here at the office.
If it has been a while since you or your children have seen us for a cleaning and check-up, or you just want to learn more about preventing tooth decay, please contact us to schedule an appointment for a consultation. If you would like to read Dear Doctor's entire interview with Cheryl Burke, please see "Cheryl Burke." Dear Doctor also has more on "Tooth Decay: The World's Oldest & Most Widespread Disease."
By Preferred Dental
February 12, 2015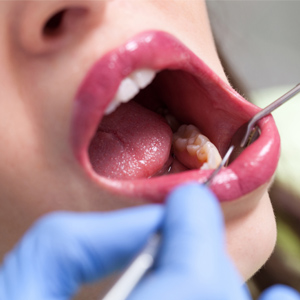 Last year, over 1.5 million people heard the words no one wants to hear: "You have cancer." While only a small portion of those — about three percent — were diagnosed with oral cancer, their survival rate isn't as good as with other types of cancers: 58% five years after diagnosis.
Here, then, are some things you should know about this deadly disease.
Oral cancer is an "equal opportunity" disease. People from all walks and stations of life experience oral cancer. The disease has caused the untimely deaths of Ulysses S. Grant, Babe Ruth and George Harrison, one of the original Beatles. However, you don't have to be prominent or famous to acquire oral cancer: it can strike anyone at any age, especially people 40 years and older.
Oral cancer is difficult to detect early. Oral cancer usually appears as a small, scaly-shaped sore known as a squamous cell carcinoma. Appearing in the lining of the mouth, lips, tongue or back of the throat, the early stages often resemble other benign conditions such as cold or canker sores, so they're easily overlooked in the early stages. To increase your chances of an early diagnosis, you should see your dentist about any mouth sore that doesn't heal in two to three weeks; it's also advisable to undergo a specific oral cancer screening during your regular dental checkups.
Tobacco and heavy alcohol use are strongly linked to oral cancer. Tobacco smokers are five to nine times more likely to develop oral cancer while snuff or chewing tobacco users are roughly four times more likely than non-tobacco users. People who are moderate to heavy drinkers are three to nine times more likely to develop oral cancer than non-drinkers.
You can reduce your risk for oral cancer. Besides quitting tobacco use and moderating your alcohol consumption, there are other things you can do to reduce cancer risk: a nutritious diet rich in fresh fruits and vegetables; limited sun exposure with adequate sunscreen protection and clothing; and safe sexual practices to avoid contracting Human Papilloma Virus (HPV16), strongly linked to oral cancer. And above all, practice effective, daily oral hygiene with regular dental cleanings and checkups.
If you would like more information on prevention and treatment of oral cancer, please contact us or schedule an appointment for a consultation. You can also learn more about this topic by reading the Dear Doctor magazine article "Oral Cancer."