Posts for: November, 2014
By Preferred Dental
November 19, 2014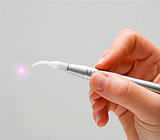 Without effective treatment, periodontal (gum) disease can eventually lead to tooth loss. That's why it's imperative to remove bacterial plaque and calculus — the main cause of the disease — from all teeth and gum surfaces. For moderate to advanced gum disease, this could require a procedure known as flap surgery to gain access to deeper infected areas.
This type of procedure involves making scalpel incisions into the gum tissue to create a flap opening. Through this opening we're able to gain access to the deeper pockets that have formed because of the tissue detachment that occurs following bone loss. The flap opening allows for better access to the root surfaces for removal of plaque and calculus (tartar). Once we've finished, we then suture the flap back into place to reduce the pockets and allow the area to heal.
While effective, flap surgery is considered moderately invasive and may produce mild post-procedural discomfort. Recently, however, a specially designed laser for periodontal therapy shows promise of less invasiveness and patient discomfort than traditional flap surgery.
A laser is an intense and narrow beam of light of a single wavelength. A periodontal laser can pass without effect through healthy cell tissue (like sunlight through a window pane) but interacts and "vaporizes" the darkly pigmented bacteria in diseased tissue. The laser energy is delivered in pulses to minimize any heat-related damage to healthy cells.
The periodontal laser can precisely remove diseased tissue, even where it mingles with healthy tissue. Once it's removed, the root surfaces can be cleaned with ultrasonic scalers and/or hand instruments. And because a medical laser seals the tissue it cuts, it doesn't produce open incisions as with flap surgery that require suturing afterward.
Studies of post-operative recovery after laser surgery showed similar infection reduction and renewed bone and tissue growth as with traditional surgery. Patients, however, reported much less discomfort after the laser procedure. Although more research is needed, it initially appears periodontal laser treatments can effectively treat gum disease with minimal interference with healthy tissue and greater comfort for patients.
If you would like more information on the use of lasers for the treatment of gum disease, please contact us or schedule an appointment for a consultation.
By Preferred Dental
November 03, 2014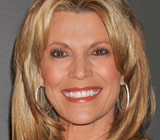 As the co-host of one of America's most beloved television game shows, Wheel of Fortune, Vanna White is recognized for her beautiful gowns and her dazzling smile. However, during an exclusive interview with Dear Doctor magazine, she shared her experiences with cosmetic dentistry. "I had a bridge put in probably 30 years ago where I had a tooth pulled and there was a space," Vanna said.
Prior to having a permanent tooth pulled, most people are concerned with what can be done to replace it. It's important to follow through and do exactly that. This is especially true with back teeth. Just because you can't see them, it doesn't mean you won't face problems if they are not replaced.
For example, did you know that missing posterior (back) teeth can lead to a wide array or problems with the remaining teeth, muscles, ligaments, joints and jaw bones? This includes:
A decrease in chewing efficiency that in turn can impact your diet, nutrition and overall health
Excessive erosion or wear of remaining teeth
Tipping, migration, rotation and even loss of adjacent remaining teeth
Painful jaw problems such as Temporomandibular Dysfunction (TMD)
One treatment option is to follow in Vanna's footsteps and consider a fixed bridge. This is an excellent option when dental implants won't work. And through our artistry, we can easily blend them in color and appearance with your surrounding teeth.
When implants are possible, they represent the best option. They are easily maintained and are a durable, long-lasting solution that can increase bite support.
To learn more about this topic, continue reading the Dear Doctor magazine article "Replacing Back Teeth." Or if you are already missing a permanent tooth, you can contact us today to schedule an appointment so that we can conduct a thorough examination. We will also address any questions you have as well as your treatment options. And if you want to read the entire feature article on Vanna White, continue reading "Vanna White."