Posts for: June, 2014
By Preferred Dental
June 17, 2014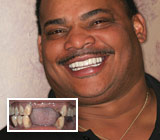 This is the story of a well-known man, fearless in most respects, who was afraid of the dentist. Even though his fears had resulted in neglect and serious damage to his teeth, modern dentistry and a talented dental team were able to restore his smile to health. If you share this fear, his story may inspire you to take action.
We're talking about William Perry, former defensive lineman and fullback for the Chicago Bears. Here is a man who could fearlessly face a football squad — but not a visit to the dentist. Nicknamed "The Refrigerator" for his 380-pound massive frame, Perry played for ten years in the NFL before retiring in 1994. Since retiring he founded and operated a construction company in South Carolina in addition to making celebrity appearances.
With his celebrity in mind, a team composed of a talented restorative dentist, implant surgeon, and lab technician agreed to give "The Fridge" a makeover. After discussing modern technology and virtually pain-free dentistry with him, they managed to overcome Perry's fears. "I had been in constant pain for many years and I neglected myself, not having had any dental care for over 20 years, not even emergency care. Unfortunately, as I grew older my teeth started to get loose," Perry told an interviewer. He had lost many teeth and became known for his gap-toothed smile.
Perry had severe gum disease and many of his remaining teeth were loose. In the past his only option would have been a full set of dentures. But his new dental team was able to place dental implants (permanent tooth replacements) supporting fixed bridges. In most cases dental bridges are attached to healthy teeth, but in Perry's case the implants served as anchors for the bridges. They also stabilized his jawbone, which would otherwise "resorb" or melt away after his teeth were lost. This is important because it helps preserve the contours of his face.
After careful planning "The Fridge" had eight dental implants placed in his upper jaw and seven in his lower. The final bridgework was completed four months later. It turned out that even though the gap between his teeth had become his trademark, "the Fridge" never really liked it. He was thrilled with his new smile.
Even if you have some fears, don't hesitate to follow Perry's example and make an appointment with us for a consultation about dental implants, smile makeovers, or bridgework. For more information about William "The Refrigerator" Perry, see the Dear Doctor magazine article "How Immediate Implants Saved 'Refrigerator' Perry's Smile."
By Preferred Dental
June 02, 2014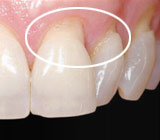 Q: Why should I consider cosmetic gum surgery to improve my smile?
A: If you're looking to enhance the natural beauty of your smile, you may have heard about various cosmetic procedures that can improve the appearance of your teeth. But don't forget about the other, equally important element of a bright, appealing smile: the healthy-looking and well-proportioned gums that surround and support those pearly whites. Many times, cosmetic flaws are caused by gum tissue that's covering too much or too little of the tooth's surface; in other situations, the gum line is uneven, and covers some teeth more than others. Cosmetic gum surgery can successfully remedy these imperfections.
Q: How exactly does cosmetic gum surgery resolve smile defects?
A: There are several minor surgical procedures that may be recommended, depending on what's best for your individual situation. For example, some people have a "gummy smile," where teeth seem excessively "short" because they're covered with too much gum tissue. In this case, a "crown lengthening" procedure can be performed, where gum tissue (and perhaps a small amount of bone tissue) is removed; this makes the teeth appear in better proportion to the smile. In the opposite case — where the teeth appear too "long" due to receding (shrinking) gums, tissue can be grafted (added on) to the gums. Gum recontouring procedures are used to re-shape the gum line for a more even, pleasing effect.
Q: Are there non-cosmetic reasons for having gum surgery?
A: Yes. A tooth with too much of its root area exposed is often more prone to decay, and may become extremely sensitive to hot or cold. Covering an exposed root with gum tissue is just one non-cosmetic reason why gum surgery may be necessary.
Q: What's involved in gum surgery — do I have to go to the hospital?
A: Cosmetic gum surgery is normally performed in the dental office, and usually involves only a local anesthetic. However, if you need a deeper level of relaxation, other forms of sedation may be available. In some cases, lasers can be used instead of conventional surgical tools to remove excess gum tissue. If you need a tissue graft, the grafting material can be taken from your own mouth, or may come from donor tissue that is processed to ensure your safety. Gum surgery is minimally invasive, and most people experience only minor discomfort.
If you'd like to know whether cosmetic gum surgery could help you get the smile you've always wanted, please contact us or schedule an appointment for a consultation. You can learn more by reading the Dear Doctor magazine articles "Gummy Smiles" and "Periodontal Plastic Surgery."