Posts for: January, 2014
By Preferred Dental
January 29, 2014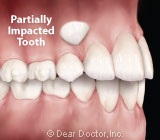 There are only a few teeth that are known by nicknames. The big, late-blooming third molars ("wisdom teeth") are one set; another set is the sharply-pointed canines, also called the "eyeteeth". These two sets of teeth have something else in common: They can both suffer from the failure to develop in the proper place. Impacted wisdom teeth are a well known problem; impacted canines, however, are an issue that's seen less frequently — but can often be effectively treated without extraction (removal).
What does the term "impacted" mean? In dental terminology, it indicates a tooth that is growing in a position where it can't erupt (grow in to the bite) properly. This sometimes happens in cases where the bite is "crowded" — that is, where there isn't enough space in the jaw for all of the teeth to develop properly. An impacted tooth remains "buried" to some extent in the tissues of the gums and jaw. It may eventually cause various problems with the roots of neighboring teeth, or even form a cyst (fluid-filled sac). That's why treatment of impacted teeth is so important.
Impacted third molars (wisdom teeth) are generally removed (extracted), and are rarely missed. Canines, however, are located near the front of the mouth, forming an important component of an aesthetically pleasing smile. Therefore, whenever possible, it's preferable to bring these teeth into good alignment with the rest of the smile rather than remove them. How is this done?
The process begins with a series of radiographic images (x-rays or CT scans) that show the exact positions of the affected teeth. Next, a minor surgical procedure, performed under local anesthesia, is used to expose the crowns (surfaces) of the impacted teeth. Then, a bracket is bonded to the surface of the tooth, which can be attached to orthodontic appliances. These appliances will, in time, move the tooth into a better position.
Impacted canines can be a serious problem — but the good news is that, with the proper treatment, it's often possible to bring them into alignment with the rest of your smile. If you would like more information about treating impacted canine teeth, call our office for a consultation. You can learn more in the Dear Doctor magazine article "Exposing Impacted Canines."
By Preferred Dental
January 14, 2014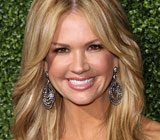 When her daughter Ashby was born in 2007, Nancy O'Dell was overjoyed; but she found the experience of pregnancy to be anxiety-provoking. O'Dell is host of the popular entertainment news show Entertainment Tonight.
After her baby was born she compiled her memories and thoughts into a book for first-time pregnant mothers. The book, "Full of Life: Mom to Mom Tips I Wish Someone Had Told Me When I Was Pregnant," covers a wide range of topics — including oral health during pregnancy.
"While my dental health has always been relatively normal, pregnancy did cause me some concern about my teeth and gums. With my dentist's advice and treatment, the few problems I had were minimized," O'Dell told Dear Doctor magazine. An example of her experience is a craving for milk that started at about the time the baby's teeth began to form. She felt that her body was telling her to consume more calcium.
As often happens with pregnant mothers, she developed sensitive gums and was diagnosed with "pregnancy gingivitis," the result of hormonal changes that increase blood flow to the gums.
"I love to smile," said O'Dell, "and smiles are so important to set people at ease, like when you walk into a room of people you don't know. When you genuinely smile you're able to dissolve that natural wall that exists between strangers."
Contact us today to schedule an appointment to discuss your questions about dental health during pregnancy. You can also learn more by reading the Dear Doctor magazine article "Nancy O'Dell."